EGI-OH LIVE NEONBRIGHT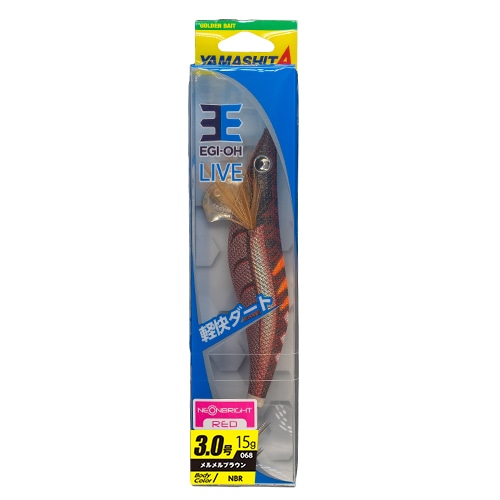 Next generation U.V.ray reflection appeal. "NEON BRIGHT" adoption EGI-OH LIVE additional colors " Solid color" which are adjustable for the tide colors or the amount of light are available as the new colors. Their silhouettes stand out sharply with the tide colors and the light amount than the other NEONBRIGHT colors.

Features
Keimura body (U.V. Body) usually reflects in the blueish light wavelength.
But the light wavelength variation in this new series
"NEON BRIGHT" are not only blue but also red and green.
"NEON BRIGHT RED" can transmit its existence to the squid depending on the water color.
What's the new U.V. reflection of the 'NEON BRIGHT" series?
Without UV light the body looks clear to our eyes
but under U.V. rays they reflect different colors.
Effective situation
The U.V.reflection color of Red, Green and Blue enables us
to have a color rotation depending on the situation.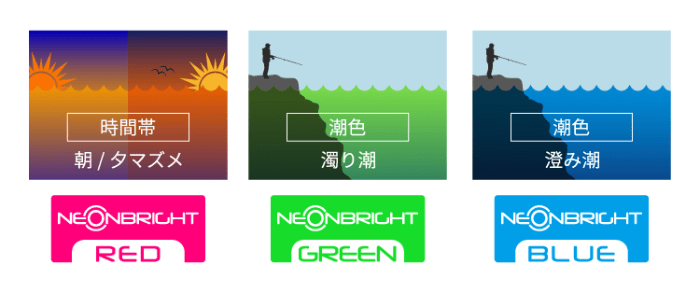 There are thin under foil sections on the side of the EGI.
Green "NEON BRIGHT" has a green edge, Red "NEON BRIGHT" has a red edge
and Blue "NEON BRIGHT" has a blue edge.
Specifications
| | | |
| --- | --- | --- |
| Size | Weight | Sinking Speed |
| 2.5 | 10g | Approx. 5.5 sec / m |
| 3 | 15g | Approx. 3.5 sec / m |
| 3.5 | 21g | Approx. 3 sec / m |
*Move the cursor on each images, you can check the Glow images.
062 MR

赤テープ

063 BG

赤テープ

064 RP

金テープ

065 SO

金テープ

066 BBM

金テープ

067 PB

銀ホロ

068 MMB

069 OS

070 LP
Spec
*Scroll across for more
Code
Item
Size / Color
Cloth type

Body color or

Under tape (foil) color

Size
Weight

Actual size

(Without hook)

Sinking type
Sinking speed
619-997

EGI OH LIVE 2.5

062 MR
La-me
NEON BRIGHT RED & Red tape

2.5号

10g

60mm

Basic
Approx. 5.5 sec/m
620-009

EGI OH LIVE 2.5

063 BG
La-me
NEON BRIGHT RED & Red tape

2.5号

10g

60mm

Basic
Approx. 5.5 sec/m
620-016

EGI OH LIVE 2.5

064 RP
La-me
NEON BRIGHT GREEN & Gold tape

2.5号

10g

60mm

Basic
Approx. 5.5 sec/m
620-023

EGI OH LIVE 2.5

065 SO
La-me
NEON BRIGHT GREEN & Gold tape

2.5号

10g

60mm

Basic
Approx. 5.5 sec/m
620-030

EGI OH LIVE 2.5

066 BBM
La-me
NEON BRIGHT Blue & Gold tape

2.5号

10g

60mm

Basic
Approx. 5.5 sec/m
620-047

EGI OH LIVE 2.5

067 PB
La-me
NEON BRIGHT Blue & Silver holo

2.5号

10g

60mm

Basic
Approx. 5.5 sec/m
623-437

EGI OH LIVE 2.5

068 MMB
La-me
NEON BRIGHT Red

2.5号

10g

60mm

Basic
Approx. 5.5 sec/m
623-444

EGI OH LIVE 2.5

069 OS
La-me
NEON BRIGHT Green

2.5号

10g

60mm

Basic
Approx. 5.5 sec/m
623-451

EGI OH LIVE 2.5

070 LP
La-me
NEON BRIGHT Blue

2.5号

10g

60mm

Basic
Approx. 5.5 sec/m
620-054

EGI OH LIVE 3

062 MR
La-me
NEON BRIGHT RED & Red tape

3号

15g

90mm

Basic
Approx. 3.5 sec/m
620-061

EGI OH LIVE 3

063 BG
La-me
NEON BRIGHT RED & Red tape

3号

15g

90mm

Basic
Approx. 3.5 sec/m
620-078

EGI OH LIVE 3

064 RP
La-me
NEON BRIGHT GREEN & Gold tape

3号

15g

90mm

Basic
Approx. 3.5 sec/m
620-085

EGI OH LIVE 3

065 SO
La-me
NEON BRIGHT GREEN & Gold tape

3号

15g

90mm

Basic
Approx. 3.5 sec/m
620-092

EGI OH LIVE 3

066 BBM
La-me
NEON BRIGHT Blue & Gold tape

3号

15g

90mm

Basic
Approx. 3.5 sec/m
620-108

EGI OH LIVE 3

067 PB
La-me
NEON BRIGHT Blue & Silver holo

3号

15g

90mm

Basic
Approx. 3.5 sec/m
623-468

EGI OH LIVE 3

068 MMB
La-me
NEON BRIGHT Red

3号

15g

90mm

Basic
Approx. 3.5 sec/m
623-475

EGI OH LIVE 3

069 OS
La-me
NEON BRIGHT Green

3号

15g

90mm

Basic
Approx. 3.5 sec/m
623-482

EGI OH LIVE 3

070 LP
La-me
NEON BRIGHT Blue

3号

15g

90mm

Basic
Approx. 3.5 sec/m
620-115

EGI OH LIVE 3.5

062 MR
La-me
NEON BRIGHT RED & Red tape

3.5号

21g

105mm

Basic
Approx. 3 sec/m
620-122

EGI OH LIVE 3.5

063 BG
La-me
NEON BRIGHT RED & Red tape

3.5号

21g

105mm

Basic
Approx. 3 sec/m
620-139

EGI OH LIVE 3.5

064 RP
La-me
NEON BRIGHT GREEN & Gold tape

3.5号

21g

105mm

Basic
Approx. 3 sec/m
620-146

EGI OH LIVE 3.5

065 SO
La-me
NEON BRIGHT GREEN & Gold tape

3.5号

21g

105mm

Basic
Approx. 3 sec/m
620-153

EGI OH LIVE 3.5

066 BBM
La-me
NEON BRIGHT Blue & Gold tape

3.5号

21g

105mm

Basic
Approx. 3 sec/m
620-160

EGI OH LIVE 3.5

067 PB
La-me
NEON BRIGHT Blue & Silver holo

3.5号

21g

105mm

Basic
Approx. 3 sec/m