EGI SUTTE R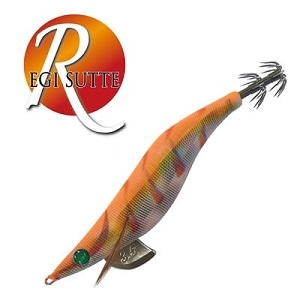 Japanese traditional, basic squid jig series.
Features
The most basic model of squid jigs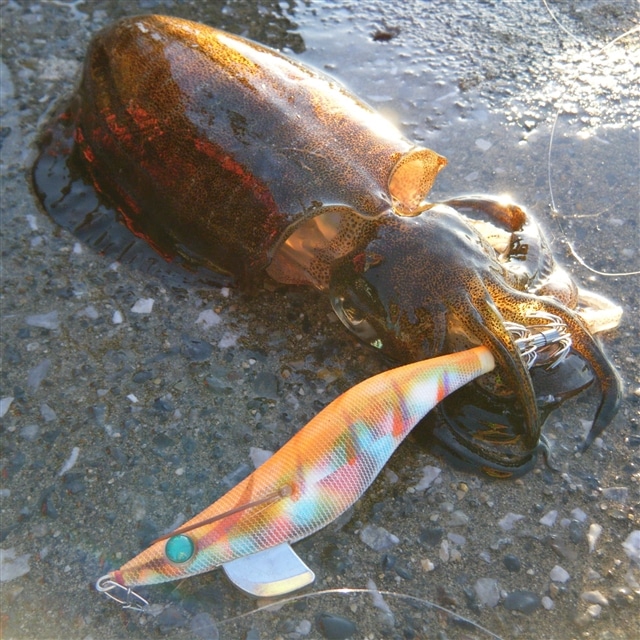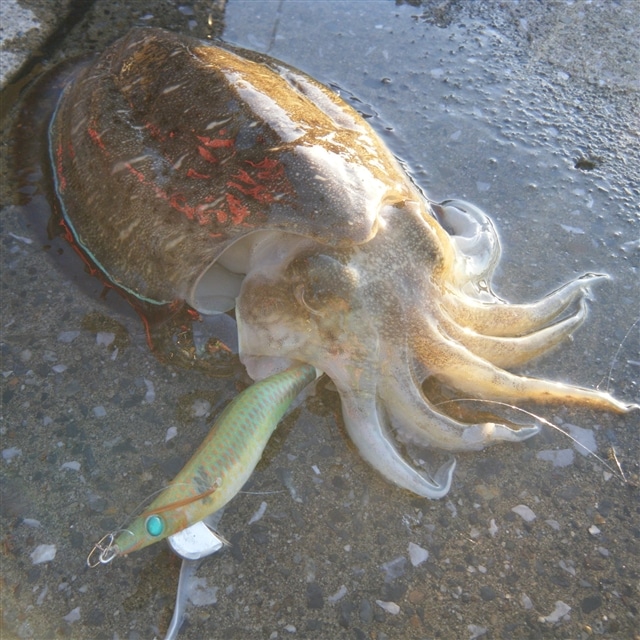 EGI SUTTE R features skeleton glow bodies which are suitable for both night and day fishing.
The slim head design and knife edge sinker give these jigs an easy dart action and the super fine stainless steel hooks enable excellent hookups without rusting issues.
Specifications
Size
1.5
1.8
2.2
2.5
3.0
3.5
Weight
3g
5g
6.5g
10g
15g
20g

Sinking

speed

Approx.

8-9 sec / m

Approx.

8-9 sec / m

Approx.

8-9 sec / m

Approx.

4-4.5 sec / m

Approx.

3-3.5 sec / m

Approx.

3-3.5 sec / m
EGI SUTTE R N series
La-me or Basic cloth, half skelton glow body
EGI SUTTE R ND series
Classic design, basic cloth, half skelton glow body
EGI SUTTE R NDX series
Classic design, basic cloth, half skelton glow body + Rainbow tape
EGI SUTTE R NC series
Natural cloth, half skelton glow body
Spec
*Scroll across for more
●N series
Code
Item
Size / Color
Cloth type

Body color or

Under tape (foil) color

Weight

Actual size

(Without hook)

Sinking speed
Regular stock
Made to order
513-325
EGI SUTTE R 1.5N
F/RO
La-me
Half skelton glow body
3g
45mm

Approx. 8-9 sec / m

○
513-332

EGI SUTTE R 1.5N

F/RP
La-me
Half skelton glow body
3g
45mm
Approx. 8-9 sec / m
○
532-807

EGI SUTTE R 1.5N

F/ROL
La-me
Half skelton glow body
3g
45mm
Approx. 8-9 sec / m
○
547-221
EGI SUTTE R 1.5N
F/BG
Basic
Half skelton glow body
3g
45mm
Approx. 8-9 sec / m
○
547-214
EGI SUTTE R 1.5N
F/BB
Basic
Half skelton glow body
3g
45mm
Approx. 8-9 sec / m
○
532-746
EGI SUTTE R 1.5N
F/BR
Basic
Half skelton glow body
3g
45mm
Approx. 8-9 sec / m
○
532-760
EGI SUTTE R 1.5N
F/BV
Basic
Half skelton glow body
3g
45mm
Approx. 8-9 sec / m
○
532-753
EGI SUTTE R 1.5N
F/BRH
Basic
Half skelton glow body
3g
45mm
Approx. 8-9 sec / m
○
532-784
EGI SUTTE R 1.5N
F/BWO
Basic
Half skelton glow body
3g
45mm
Approx. 8-9 sec / m
○
532-791
EGI SUTTE R 1.5N
F/BWP
Basic
Half skelton glow body
3g
45mm
Approx. 8-9 sec / m
○
532-777
EGI SUTTE R 1.5N
F/BWBK
Basic
Half skelton glow body
3g
45mm
Approx. 8-9 sec / m
○
579-529
EGI SUTTE R 1.5N
F/RWH
La-me
Half skelton glow body
3g
45mm
Approx. 8-9 sec / m
○
513-400
EGI SUTTE R 1.8N

F/RO

La-me
Half skelton glow body
5g
55mm
Approx. 8-9 sec / m
○
513-417
EGI SUTTE R 1.8N
F/RP
La-me
Half skelton glow body
5g
55mm
Approx. 8-9 sec / m
○
533-002
EGI SUTTE R 1.8N
F/ROL
La-me
Half skelton glow body
5g
55mm
Approx. 8-9 sec / m
○
547-337
EGI SUTTE R 1.8N
F/BG
Basic
Half skelton glow body
5g
55mm
Approx. 8-9 sec / m
○
547-320
EGI SUTTE R 1.8N
F/BB
Basic
Half skelton glow body
5g
55mm
Approx. 8-9 sec / m
○
532-944
EGI SUTTE R 1.8N
F/BR
Basic
Half skelton glow body
5g
55mm
Approx. 8-9 sec / m
○
532-968
EGI SUTTE R 1.8N
F/BV
Basic
Half skelton glow body
5g
55mm
Approx. 8-9 sec / m
○
532-951
EGI SUTTE R 1.8N
F/BRH
Basic
Half skelton glow body
5g
55mm
Approx. 8-9 sec / m
○
532-982
EGI SUTTE R 1.8N
F/BWO
Basic
Half skelton glow body
5g
55mm
Approx. 8-9 sec / m
○
532-999
EGI SUTTE R 1.8N
F/BWP
Basic
Half skelton glow body
5g
55mm
Approx. 8-9 sec / m
○
532-975
EGI SUTTE R 1.8N
F/BWBK
Basic
Half skelton glow body
5g
55mm
Approx. 8-9 sec / m
○
579-536
EGI SUTTE R 1.8N
F/RWH
La-me
Half skelton glow body
5g
55mm
Approx. 8-9 sec / m
○
513-509
EGI SUTTE R 2.2N
F/RO
La-me
Half skelton glow body
6.5g
65mm
Approx. 8-9 sec / m
○
513-516
EGI SUTTE R 2.2N
F/RP
La-me
Half skelton glow body
6.5g
65mm
Approx. 8-9 sec / m
○
533-200
EGI SUTTE R 2.2N
F/ROL
La-me
Half skelton glow body
6.5g
65mm
Approx. 8-9 sec / m
○
547-443
EGI SUTTE R 2.2N
F/BG
Basic
Half skelton glow body
6.5g
65mm
Approx. 8-9 sec / m
○
547-436
EGI SUTTE R 2.2N
F/BB
Basic
Half skelton glow body
6.5g
65mm
Approx. 8-9 sec / m
○
533-149
EGI SUTTE R 2.2N
F/BR
Basic
Half skelton glow body
6.5g
65mm
Approx. 8-9 sec / m
○
533-163
EGI SUTTE R 2.2N
F/BV
Basic
Half skelton glow body
6.5g
65mm
Approx. 8-9 sec / m
○
533-156
EGI SUTTE R 2.2N
F/BRH
Basic
Half skelton glow body
6.5g
65mm
Approx. 8-9 sec / m
○
533-187
EGI SUTTE R 2.2N
F/BWO
Basic
Half skelton glow body
6.5g
65mm
Approx. 8-9 sec / m
○
533-194
EGI SUTTE R 2.2N
F/BWP
Basic
Half skelton glow body
6.5g
65mm
Approx. 8-9 sec / m
○
533-170
EGI SUTTE R 2.2N
F/BWBK
Basic
Half skelton glow body
6.5g
65mm
Approx. 8-9 sec / m
○
579-543
EGI SUTTE R 2.2N
F/RWH
La-me
Half skelton glow body
6.5g
65mm
Approx. 8-9 sec / m
○
513-622
EGI SUTTE R 2.5N
F/RO
La-me
Half skelton glow body
10g
75mm
Approx. 4-4.5 sec / m
○
513-639
EGI SUTTE R 2.5N
F/RP
La-me
Half skelton glow body
10g
75mm
Approx. 4-4.5 sec / m
○
533-361
EGI SUTTE R 2.5N
F/ROL
La-me
Half skelton glow body
10g
75mm
Approx. 4-4.5 sec / m
○
547-559
EGI SUTTE R 2.5N

F/BG

Basic
Half skelton glow body
10g
75mm
Approx. 4-4.5 sec / m
○
547-542
EGI SUTTE R 2.5N
F/BB
Basic
Half skelton glow body
10g
75mm
Approx. 4-4.5 sec / m
○
533-309
EGI SUTTE R 2.5N
F/BR
Basic
Half skelton glow body
10g
75mm
Approx. 4-4.5 sec / m
○
533-323
EGI SUTTE R 2.5N
F/BV
Basic
Half skelton glow body
10g
75mm
Approx. 4-4.5 sec / m
○
533-316
EGI SUTTE R 2.5N
F/BRH
Basic
Half skelton glow body
10g
75mm
Approx. 4-4.5 sec / m
○
533-347
EGI SUTTE R 2.5N
F/BWO
Basic
Half skelton glow body
10g
75mm
Approx. 4-4.5 sec / m
○
533-354
EGI SUTTE R 2.5N
F/BWP
Basic
Half skelton glow body
10g
75mm
Approx. 4-4.5 sec / m
○
533-330
EGI SUTTE R 2.5N
F/BWBK
Basic
Half skelton glow body
10g
75mm
Approx. 4-4.5 sec / m
○
579-550
EGI SUTTE R 2.5N
F/RWH
La-me
Half skelton glow body
10g
75mm
Approx. 4-4.5 sec / m
○
520-118
EGI SUTTE R 3.0N
F/RO
La-me
Half skelton glow body
15g
90mm
Approx. 3-3.5 sec / m
○
520-132
EGI SUTTE R 3.0N
F/RP
La-me
Half skelton glow body
15g
90mm
Approx. 3-3.5 sec / m
○
520-125
EGI SUTTE R 3.0N
F/ROL
La-me
Half skelton glow body
15g
90mm
Approx. 3-3.5 sec / m
○
520-101
EGI SUTTE R 3.0N
F/BRH
Basic
Half skelton glow body
15g
90mm
Approx. 3-3.5 sec / m
○
579-598
EGI SUTTE R 3.0N
F/BWO
Basic
Half skelton glow body
15g
90mm
Approx. 3-3.5 sec / m
○
579-604
EGI SUTTE R 3.0N
F/BWP
Basic
Half skelton glow body
15g
90mm
Approx. 3-3.5 sec / m
○
579-581
EGI SUTTE R 3.0N
F/BWBK
Basic
Half skelton glow body
15g
90mm
Approx. 3-3.5 sec / m
○
579-567
EGI SUTTE R 3.0N
F/RWH
La-me
Half skelton glow body
15g
90mm
Approx. 3-3.5 sec / m
○
520-187
EGI SUTTE R 3.5N
F/RO
La-me
Half skelton glow body
20g
105mm
Approx. 3-3.5 sec / m
○
520-200
EGI SUTTE R 3.5N
F/RP
La-me
Half skelton glow body
20g
105mm
Approx. 3-3.5 sec / m
○
520-194
EGI SUTTE R 3.5N
F/ROL
La-me
Half skelton glow body
20g
105mm
Approx. 3-3.5 sec / m
○
520-170
EGI SUTTE R 3.5N
F/BRH
Basic
Half skelton glow body
20g
105mm
Approx. 3-3.5 sec / m
○
579-628
EGI SUTTE R 3.5N
F/BWO
Basic
Half skelton glow body
20g
105mm
Approx. 3-3.5 sec / m
○
579-635
EGI SUTTE R 3.5N
F/BWP
Basic
Half skelton glow body
20g
105mm
Approx. 3-3.5 sec / m
○
579-611
EGI SUTTE R 3.5N
F/BWBK
Basic
Half skelton glow body
20g
105mm
Approx. 3-3.5 sec / m
○
579-574
EGI SUTTE R 3.5N
F/RWH
La-me
Half skelton glow body
20g
105mm
Approx. 3-3.5 sec / m
○
●ND series
Code
Item
Size / Color
Cloth type

Body color or

Under tape (foil) color

Weight

Actual size

(Without hook)

Sinking speed
Regular stock
Made to order
513-301
EGI SUTTE R 1.5ND
F/BO
Basic
Half skelton glow body
3g
45mm

Approx. 8-9 sec / m

○
513-318

EGI SUTTE R 1.5ND

F/BP
Basic
Half skelton glow body
3g
45mm
Approx. 8-9 sec / m
○
532-814

EGI SUTTE R 1.5ND

F/BGBR
Basic
Half skelton glow body
3g
45mm
Approx. 8-9 sec / m
○
532-838
EGI SUTTE R 1.5ND
F/BR
Basic
Half skelton glow body
3g
45mm
Approx. 8-9 sec / m
○
532-845
EGI SUTTE R 1.5ND
F/BV
Basic
Half skelton glow body
3g
45mm
Approx. 8-9 sec / m
○
532-852
EGI SUTTE R 1.5ND
F/BY
Basic
Half skelton glow body
3g
45mm
Approx. 8-9 sec / m
○
532-821
EGI SUTTE R 1.5ND
F/BHT
Basic
Half skelton glow body
3g
45mm
Approx. 8-9 sec / m
○
547-245
EGI SUTTE R 1.5ND
F/BG
Basic
Half skelton glow body
3g
45mm
Approx. 8-9 sec / m
○
547-238
EGI SUTTE R 1.5ND
F/BB
Basic
Half skelton glow body
3g
45mm
Approx. 8-9 sec / m
○
577-563
EGI SUTTE R 1.5ND
F/BTO
Basic
Half skelton glow body
3g
45mm
Approx. 8-9 sec / m
○
577-570
EGI SUTTE R 1.5ND
F/BTP
Basic
Half skelton glow body
3g
45mm
Approx. 8-9 sec / m
○
577-587
EGI SUTTE R 1.5ND
F/BTR
Basic
Half skelton glow body
3g
45mm
Approx. 8-9 sec / m
○
577-594

EGI SUTTE R 1.5ND

F/BTV
Basic

Half skelton glow body

3g
45mm

Approx. 8-9 sec / m

○

513-387
EGI SUTTE R 1.8ND

F/BO

Basic
Half skelton glow body
5g
55mm
Approx. 8-9 sec / m
○
513-394
EGI SUTTE R 1.8ND
F/BP
Basic
Half skelton glow body
5g
55mm
Approx. 8-9 sec / m
○
533-019
EGI SUTTE R 1.8ND
F/BGBR
Basic
Half skelton glow body
5g
55mm
Approx. 8-9 sec / m
○
533-033
EGI SUTTE R 1.8ND
F/BR
Basic
Half skelton glow body
5g
55mm
Approx. 8-9 sec / m
○
533-040
EGI SUTTE R 1.8ND
F/BV
Basic
Half skelton glow body
5g
55mm
Approx. 8-9 sec / m
○
533-057
EGI SUTTE R 1.8ND
F/BY
Basic
Half skelton glow body
5g
55mm
Approx. 8-9 sec / m
○
533-026
EGI SUTTE R 1.8ND
F/BHT
Basic
Half skelton glow body
5g
55mm
Approx. 8-9 sec / m
○
547-351
EGI SUTTE R 1.8ND
F/BG
Basic
Half skelton glow body
5g
55mm
Approx. 8-9 sec / m
○
547-344
EGI SUTTE R 1.8ND
F/BB
Basic
Half skelton glow body
5g
55mm
Approx. 8-9 sec / m
○
577-600
EGI SUTTE R 1.8ND
F/BTO
Basic
Half skelton glow body
5g
55mm
Approx. 8-9 sec / m
○
577-617
EGI SUTTE R 1.8ND
F/BTP
Basic
Half skelton glow body
5g
55mm
Approx. 8-9 sec / m
○
577-624
EGI SUTTE R 1.8ND
F/BTR
Basic
Half skelton glow body
5g
55mm
Approx. 8-9 sec / m
○
577-631

EGI SUTTE R 1.8N

D

F/BTV
Basic

Half skelton glow body

5g
55mm

Approx. 8-9 sec / m

○

513-486
EGI SUTTE R 2.2ND
F/BO
Basic
Half skelton glow body
6.5g
65mm
Approx. 8-9 sec / m
○
513-493
EGI SUTTE R 2.2ND
F/BP
Basic
Half skelton glow body
6.5g
65mm
Approx. 8-9 sec / m
○
533-217
EGI SUTTE R 2.2ND
F/BGBR
Basic
Half skelton glow body
6.5g
65mm
Approx. 8-9 sec / m
○
533-231
EGI SUTTE R 2.2ND
F/BR
Basic
Half skelton glow body
6.5g
65mm
Approx. 8-9 sec / m
○
533-248
EGI SUTTE R 2.2ND
F/BV
Basic
Half skelton glow body
6.5g
65mm
Approx. 8-9 sec / m
○
533-255
EGI SUTTE R 2.2ND
F/BY
Basic
Half skelton glow body
6.5g
65mm
Approx. 8-9 sec / m
○
533-224
EGI SUTTE R 2.2ND
F/BHT
Basic
Half skelton glow body
6.5g
65mm
Approx. 8-9 sec / m
○
547-467
EGI SUTTE R 2.2ND
F/BG
Basic
Half skelton glow body
6.5g
65mm
Approx. 8-9 sec / m
○
547-450
EGI SUTTE R 2.2ND
F/BB
Basic
Half skelton glow body
6.5g
65mm
Approx. 8-9 sec / m
○
577-648
EGI SUTTE R 2.2ND
F/BTO
Basic
Half skelton glow body
6.5g
65mm
Approx. 8-9 sec / m
○
577-655
EGI SUTTE R 2.2ND
F/BTP
Basic
Half skelton glow body
6.5g
65mm
Approx. 8-9 sec / m
○
577-662
EGI SUTTE R 2.2ND
F/BTR
Basic
Half skelton glow body
6.5g
65mm
Approx. 8-9 sec / m
○
577-679

EGI SUTTE R 2.2N

D

F/BTV
Basic

Half skelton glow body

6.5g
65mm

Approx. 8-9 sec / m

○

513-608
EGI SUTTE R 2.5ND
F/BO
Basic
Half skelton glow body
10g
75mm
Approx. 4-4.5 sec / m
○
513-615
EGI SUTTE R 2.5ND
F/BP
Basic
Half skelton glow body
10g
75mm
Approx. 4-4.5 sec / m
○
533-378
EGI SUTTE R 2.5ND
F/BGBR
Basic
Half skelton glow body
10g
75mm
Approx. 4-4.5 sec / m
○
533-392
EGI SUTTE R 2.5ND

F/BR

Basic
Half skelton glow body
10g
75mm
Approx. 4-4.5 sec / m
○
533-408
EGI SUTTE R 2.5ND
F/BV
Basic
Half skelton glow body
10g
75mm
Approx. 4-4.5 sec / m
○
533-415
EGI SUTTE R 2.5ND
F/BY
Basic
Half skelton glow body
10g
75mm
Approx. 4-4.5 sec / m
○
533-385
EGI SUTTE R 2.5ND
F/BHT
Basic
Half skelton glow body
10g
75mm
Approx. 4-4.5 sec / m
○
547-573
EGI SUTTE R 2.5ND
F/BG
Basic
Half skelton glow body
10g
75mm
Approx. 4-4.5 sec / m
○
547-566
EGI SUTTE R 2.5ND
F/BB
Basic
Half skelton glow body
10g
75mm
Approx. 4-4.5 sec / m
○
592-429
EGI SUTTE R 2.5ND
F/BTO
Basic
Half skelton glow body
10g
75mm
Approx. 4-4.5 sec / m
○
592-412
EGI SUTTE R 2.5ND
F/BTP
Basic
Half skelton glow body
10g
75mm
Approx. 4-4.5 sec / m
○
592-436
EGI SUTTE R 2.5ND
F/BTR
Basic
Half skelton glow body
10g
75mm
Approx. 4-4.5 sec / m
○
592-443

EGI SUTTE R 2.5N

D

F/BTV
Basic

Half skelton glow body

10g
75mm

Approx. 4-4.5 sec / m

○

520-149
EGI SUTTE R 3.0ND
F/BHT
Basic
Half skelton glow body
15g
90mm
Approx. 3-3.5 sec / m
○
592-467
EGI SUTTE R 3.0ND
F/BTO
Basic
Half skelton glow body
15g
90mm
Approx. 3-3.5 sec / m
○
592-450
EGI SUTTE R 3.0ND
F/BTP
Basic
Half skelton glow body
15g
90mm
Approx. 3-3.5 sec / m
○
592-474
EGI SUTTE R 3.0ND
F/BTR
Basic
Half skelton glow body
15g
90mm
Approx. 3-3.5 sec / m
○
592-481
EGI SUTTE R 3.0ND
F/BTV
Basic
Half skelton glow body
15g
90mm
Approx. 3-3.5 sec / m
○
520-217
EGI SUTTE R 3.5ND
F/BHT
Basic
Half skelton glow body
20g
105mm
Approx. 3-3.5 sec / m
○
592-504
EGI SUTTE R 3.5ND
F/BTO
Basic
Half skelton glow body
20g
105mm
Approx. 3-3.5 sec / m
○
592-498
EGI SUTTE R 3.5ND
F/BTP
Basic
Half skelton glow body
20g
105mm
Approx. 3-3.5 sec / m
○
592-511
EGI SUTTE R 3.5ND
F/BTR
Basic
Half skelton glow body
20g
105mm
Approx. 3-3.5 sec / m
○
592-528
EGI SUTTE R 3.5ND
F/BTV
Basic
Half skelton glow body
20g
105mm
Approx. 3-3.5 sec / m
○
●NDX series
Code
Item
Size / Color
Cloth type

Body color or

Under tape (foil) color

Weight

Actual size

(Without hook)

Sinking speed
Regular stock
Made to order
532-869
EGI SUTTE R 1.5NDX
F/BO
Basic
Half skelton glow body + Rainbow tape
3g
45mm

Approx. 8-9 sec / m

○

532-883

EGI SUTTE R 1.5NDX

F/BP
Basic
Half skelton glow body + Rainbow tape
3g
45mm
Approx. 8-9 sec / m

○

532-876

EGI SUTTE R 1.5NDX

F/BOL
Basic
Half skelton glow body + Rainbow tape
3g
45mm
Approx. 8-9 sec / m
○
547-269
EGI SUTTE R 1.5NDX
F/BG
Basic
Half skelton glow body + Rainbow tape
3g
45mm
Approx. 8-9 sec / m
○
547-252
EGI SUTTE R 1.5NDX
F/BB
Basic
Half skelton glow body + Rainbow tape
3g
45mm
Approx. 8-9 sec / m
○
547-290
EGI SUTTE R 1.5NDX
F/BR
Basic
Half skelton glow body + Rainbow tape
3g
45mm
Approx. 8-9 sec / m
○
547-306
EGI SUTTE R 1.5NDX
F/BV
Basic
Half skelton glow body + Rainbow tape
3g
45mm
Approx. 8-9 sec / m
○
547-313
EGI SUTTE R 1.5NDX
F/BY
Basic
Half skelton glow body + Rainbow tape
3g
45mm
Approx. 8-9 sec / m
○
547-276
EGI SUTTE R 1.5NDX
F/BGBR
Basic
Half skelton glow body + Rainbow tape
3g
45mm
Approx. 8-9 sec / m
○
547-283
EGI SUTTE R 1.5NDX
F/BLG
Basic
Half skelton glow body + Rainbow tape
3g
45mm
Approx. 8-9 sec / m
○
533-064
EGI SUTTE R 1.8NDX

F/BO

Basic
Half skelton glow body + Rainbow tape
5g
55mm
Approx. 8-9 sec / m

○

533-088
EGI SUTTE R 1.8NDX
F/BP
Basic
Half skelton glow body + Rainbow tape
5g
55mm
Approx. 8-9 sec / m

○

533-071
EGI SUTTE R 1.8NDX

F/BOL

Basic
Half skelton glow body + Rainbow tape
5g
55mm
Approx. 8-9 sec / m
○
547-375
EGI SUTTE R 1.8NDX

F/BG

Basic
Half skelton glow body + Rainbow tape
5g
55mm
Approx. 8-9 sec / m
○
547-368
EGI SUTTE R 1.8NDX

F/BB

Basic
Half skelton glow body + Rainbow tape
5g
55mm
Approx. 8-9 sec / m
○
547-405
EGI SUTTE R 1.8NDX

F/BR

Basic
Half skelton glow body + Rainbow tape
5g
55mm
Approx. 8-9 sec / m
○
547-412
EGI SUTTE R 1.8NDX

F/BV

Basic
Half skelton glow body + Rainbow tape
5g
55mm
Approx. 8-9 sec / m
○
547-429
EGI SUTTE R 1.8NDX

F/BY

Basic
Half skelton glow body + Rainbow tape
5g
55mm
Approx. 8-9 sec / m
○
547-382
EGI SUTTE R 1.8NDX

F/BGBR

Basic
Half skelton glow body + Rainbow tape
5g
55mm
Approx. 8-9 sec / m
○
547-399
EGI SUTTE R 1.8NDX

F/BLG

Basic
Half skelton glow body + Rainbow tape
5g
55mm
Approx. 8-9 sec / m
○
513-462
EGI SUTTE R 2.2NDX

F/BO

Basic
Half skelton glow body + Rainbow tape
6.5g
65mm
Approx. 8-9 sec / m
○
513-479
EGI SUTTE R 2.2NDX

F/BP

Basic
Half skelton glow body + Rainbow tape
6.5g
65mm
Approx. 8-9 sec / m
○
533-262
EGI SUTTE R 2.2NDX

F/BOL

Basic
Half skelton glow body + Rainbow tape
6.5g
65mm
Approx. 8-9 sec / m
○
547-481
EGI SUTTE R 2.2NDX

F/BG

Basic
Half skelton glow body + Rainbow tape
6.5g
65mm
Approx. 8-9 sec / m
○
547-474
EGI SUTTE R 2.2NDX

F/BB

Basic
Half skelton glow body + Rainbow tape
6.5g
65mm
Approx. 8-9 sec / m
○
547-511
EGI SUTTE R 2.2NDX

F/BR

Basic
Half skelton glow body + Rainbow tape
6.5g
65mm
Approx. 8-9 sec / m
○
547-528
EGI SUTTE R 2.2NDX

F/BV

Basic
Half skelton glow body + Rainbow tape
6.5g
65mm
Approx. 8-9 sec / m
○
547-535
EGI SUTTE R 2.2NDX

F/BY

Basic
Half skelton glow body + Rainbow tape
6.5g
65mm
Approx. 8-9 sec / m
○
547-498
EGI SUTTE R 2.2NDX

F/BGBR

Basic
Half skelton glow body + Rainbow tape
6.5g
65mm
Approx. 8-9 sec / m
○
547-504
EGI SUTTE R 2.2NDX

F/BLG

Basic
Half skelton glow body + Rainbow tape
6.5g
65mm
Approx. 8-9 sec / m
○
513-585
EGI SUTTE R 2.5NDX

F/BO

Basic
Half skelton glow body + Rainbow tape
10g
75mm
Approx. 4-4.5 sec / m
○
513-592
EGI SUTTE R 2.5NDX

F/BP

Basic
Half skelton glow body + Rainbow tape
10g
75mm
Approx. 4-4.5 sec / m
○
533-422
EGI SUTTE R 2.5NDX

F/BOL

Basic
Half skelton glow body + Rainbow tape
10g
75mm
Approx. 4-4.5 sec / m
○
547-597
EGI SUTTE R 2.5NDX

F/BG

Basic
Half skelton glow body + Rainbow tape
10g
75mm
Approx. 4-4.5 sec / m
○
547-580
EGI SUTTE R 2.5NDX

F/BB

Basic
Half skelton glow body + Rainbow tape
10g
75mm
Approx. 4-4.5 sec / m
○
547-627
EGI SUTTE R 2.5NDX

F/BR

Basic
Half skelton glow body + Rainbow tape
10g
75mm
Approx. 4-4.5 sec / m
○
547-634
EGI SUTTE R 2.5NDX

F/BV

Basic
Half skelton glow body + Rainbow tape
10g
75mm
Approx. 4-4.5 sec / m
○
547-641
EGI SUTTE R 2.5NDX

F/BY

Basic
Half skelton glow body + Rainbow tape
10g
75mm
Approx. 4-4.5 sec / m
○
547-603
EGI SUTTE R 2.5NDX

F/BGBR

Basic
Half skelton glow body + Rainbow tape
10g
75mm
Approx. 4-4.5 sec / m
○
547-610
EGI SUTTE R 2.5NDX

F/BLG

Basic
Half skelton glow body + Rainbow tape
10g
75mm
Approx. 4-4.5 sec / m
○
514-148
EGI SUTTE R 3.0NDX

F/BO

Basic
Half skelton glow body + Rainbow tape
15g
90mm
Approx. 3-3.5 sec / m
○
514-155
EGI SUTTE R 3.0NDX

F/BP

Basic
Half skelton glow body + Rainbow tape
15g
90mm
Approx. 3-3.5 sec / m
○
520-156
EGI SUTTE R 3.0NDX

F/BOL

Basic
Half skelton glow body + Rainbow tape
15g
90mm
Approx. 3-3.5 sec / m

○

514-223

EGI SUTTE R 3.5NDX

F/BO

Basic
Half skelton glow body + Rainbow tape
20g
105mm
Approx. 3-3.5 sec / m
○
514-230
EGI SUTTE R 3.5NDX

F/BP

Basic
Half skelton glow body + Rainbow tape
20g
105mm
Approx. 3-3.5 sec / m

○

520-224
EGI SUTTE R 3.5NDX

F/BOL

Basic
Half skelton glow body + Rainbow tape
20g
105mm
Approx. 3-3.5 sec / m

○
●NC series
Code
Item
Size / Color
Cloth type

Body color or

Under tape (foil) color

Weight

Actual size

(Without hook)

Sinking speed
Regular stock
Made to order
513-349
EGI SUTTE R 1.5NC
F/NIY
Natural
Half skelton glow body
3g
45mm

Approx. 8-9 sec / m

○
513-356

EGI SUTTE R 1.5NC

F/NKN
Natural
Half skelton glow body
3g
45mm
Approx. 8-9 sec / m
○
513-363

EGI SUTTE R 1.5NC

F/NMI
Natural
Half skelton glow body
3g
45mm
Approx. 8-9 sec / m
○
513-370
EGI SUTTE R 1.5NC
F/NQS
Natural
Half skelton glow body
3g
45mm
Approx. 8-9 sec / m
○
532-890
EGI SUTTE R 1.5NC
F/NAJ
Natural
Half skelton glow body
3g
45mm
Approx. 8-9 sec / m
○
532-906
EGI SUTTE R 1.5NC
F/NEB
Natural
Half skelton glow body
3g
45mm
Approx. 8-9 sec / m
○
532-913
EGI SUTTE R 1.5NC
F/NIB
Natural
Half skelton glow body
3g
45mm
Approx. 8-9 sec / m
○
532-920
EGI SUTTE R 1.5NC
F/NSB
Natural
Half skelton glow body
3g
45mm
Approx. 8-9 sec / m
○
532-937
EGI SUTTE R 1.5NC
F/NUM
Natural
Half skelton glow body
3g
45mm
Approx. 8-9 sec / m
○
513-424
EGI SUTTE R 1.8NC

F/NIY

Natural
Half skelton glow body
5g
55mm
Approx. 8-9 sec / m
○
513-431
EGI SUTTE R 1.8NC

F/NKN

Natural
Half skelton glow body
5g
55mm
Approx. 8-9 sec / m
○
513-448
EGI SUTTE R 1.8NC

F/NMI

Natural
Half skelton glow body
5g
55mm
Approx. 8-9 sec / m
○
513-455
EGI SUTTE R 1.8NC

F/NQS

Natural
Half skelton glow body
5g
55mm
Approx. 8-9 sec / m
○
533-095
EGI SUTTE R 1.8NC

F/NAJ

Natural
Half skelton glow body
5g
55mm
Approx. 8-9 sec / m
○
533-101
EGI SUTTE R 1.8NC

F/NEB

Natural
Half skelton glow body
5g
55mm
Approx. 8-9 sec / m
○
533-118
EGI SUTTE R 1.8NC

F/NIB

Natural
Half skelton glow body
5g
55mm
Approx. 8-9 sec / m
○
533-125
EGI SUTTE R 1.8NC

F/NSB

Natural
Half skelton glow body
5g
55mm
Approx. 8-9 sec / m
○
533-132
EGI SUTTE R 1.8NC

F/NUM

Natural
Half skelton glow body
5g
55mm
Approx. 8-9 sec / m
○
533-279
EGI SUTTE R 2.2NC

F/NIY

Natural
Half skelton glow body
6.5g
65mm
Approx. 8-9 sec / m
○
513-554
EGI SUTTE R 2.2NC

F/NKN

Natural
Half skelton glow body
6.5g
65mm
Approx. 8-9 sec / m
○
513-561
EGI SUTTE R 2.2NC

F/NMI

Natural
Half skelton glow body
6.5g
65mm
Approx. 8-9 sec / m
○
513-578
EGI SUTTE R 2.2NC

F/NQS

Natural
Half skelton glow body
6.5g
65mm
Approx. 8-9 sec / m
○
513-523
EGI SUTTE R 2.2NC

F/NAJ

Natural
Half skelton glow body
6.5g
65mm
Approx. 8-9 sec / m
○
513-530
EGI SUTTE R 2.2NC

F/NEB

Natural
Half skelton glow body
6.5g
65mm
Approx. 8-9 sec / m
○
513-547
EGI SUTTE R 2.2NC

F/NIB

Natural
Half skelton glow body
6.5g
65mm
Approx. 8-9 sec / m
○
533-286
EGI SUTTE R 2.2NC

F/NSB

Natural
Half skelton glow body
6.5g
65mm
Approx. 8-9 sec / m
○
533-293
EGI SUTTE R 2.2NC

F/NUM

Natural
Half skelton glow body
6.5g
65mm
Approx. 8-9 sec / m
○
533-439
EGI SUTTE R 2.5NC

F/NIY

Natural
Half skelton glow body
10g
75mm
Approx. 4-4.5 sec / m
○
513-677
EGI SUTTE R 2.5NC

F/NKN

Natural
Half skelton glow body
10g
75mm
Approx. 4-4.5 sec / m
○
513-684
EGI SUTTE R 2.5NC

F/NMI

Natural
Half skelton glow body
10g
75mm
Approx. 4-4.5 sec / m
○
513-691
EGI SUTTE R 2.5NC

F/NQS

Natural
Half skelton glow body
10g
75mm
Approx. 4-4.5 sec / m
○
513-646
EGI SUTTE R 2.5NC

F/NAJ

Natural
Half skelton glow body
10g
75mm
Approx. 4-4.5 sec / m
○
513-653
EGI SUTTE R 2.5NC

F/NEB

Natural
Half skelton glow body
10g
75mm
Approx. 4-4.5 sec / m
○
513-660
EGI SUTTE R 2.5NC

F/NIB

Natural
Half skelton glow body
10g
75mm
Approx. 4-4.5 sec / m
○
533-446
EGI SUTTE R 2.5NC

F/NSB

Natural
Half skelton glow body
10g
75mm
Approx. 4-4.5 sec / m
○
533-453
EGI SUTTE R 2.5NC

F/NUM

Natural
Half skelton glow body
10g
75mm
Approx. 4-4.5 sec / m
○
520-163
EGI SUTTE R 3.0NC

F/NIY

Natural
Half skelton glow body
15g
90mm
Approx. 3-3.5 sec / m
○
514-193
EGI SUTTE R 3.0NC

F/NKN

Natural
Half skelton glow body
15g
90mm
Approx. 3-3.5 sec / m
○
514-209
EGI SUTTE R 3.0NC

F/NMI

Natural
Half skelton glow body
15g
90mm
Approx. 3-3.5 sec / m
○
514-216
EGI SUTTE R 3.0NC

F/NQS

Natural
Half skelton glow body
15g
90mm
Approx. 3-3.5 sec / m
○
514-162
EGI SUTTE R 3.0NC

F/NAJ

Natural
Half skelton glow body
15g
90mm
Approx. 3-3.5 sec / m
○
514-179
EGI SUTTE R 3.0NC

F/NEB

Natural
Half skelton glow body
15g
90mm
Approx. 3-3.5 sec / m
○
514-186
EGI SUTTE R 3.0NC

F/NIB

Natural
Half skelton glow body
15g
90mm
Approx. 3-3.5 sec / m
○
520-231
EGI SUTTE R 3.5NC

F/NIY

Natural
Half skelton glow body
20g
105mm
Approx. 3-3.5 sec / m
○
514-278
EGI SUTTE R 3.5NC

F/NKN

Natural
Half skelton glow body
20g
105mm
Approx. 3-3.5 sec / m
○
514-285
EGI SUTTE R 3.5NC

F/NMI

Natural
Half skelton glow body
20g
105mm
Approx. 3-3.5 sec / m
○
514-292
EGI SUTTE R 3.5NC

F/NQS

Natural
Half skelton glow body
20g
105mm
Approx. 3-3.5 sec / m
○
514-247
EGI SUTTE R 3.5NC

F/NAJ

Natural
Half skelton glow body
20g
105mm
Approx. 3-3.5 sec / m
○
514-254
EGI SUTTE R 3.5NC

F/NEB

Natural
Half skelton glow body
20g
105mm
Approx. 3-3.5 sec / m
○
514-261
EGI SUTTE R 3.5NC

F/NIB

Natural
Half skelton glow body
20g
105mm
Approx. 3-3.5 sec / m
○