EGI-OH LIVE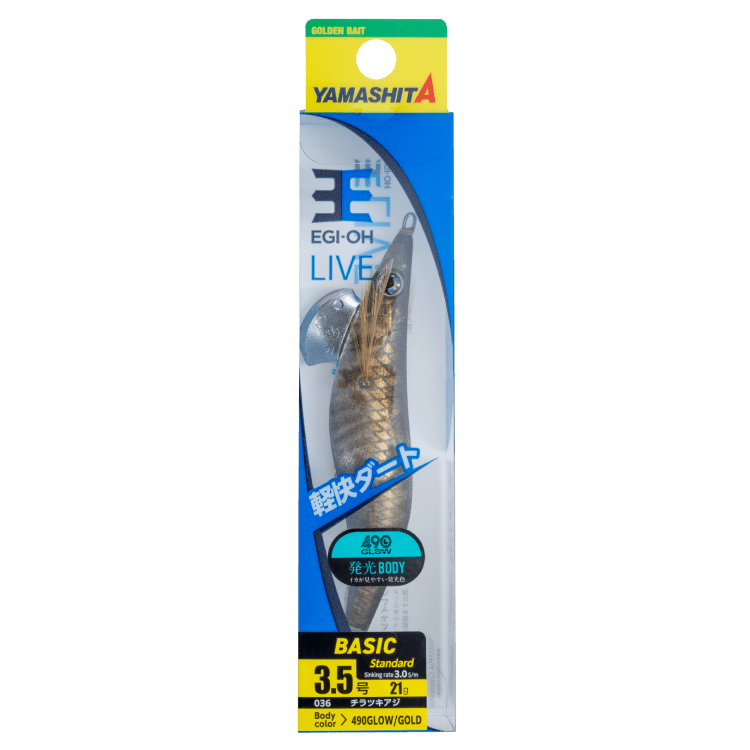 Basic model in EGI-OH series.
It is easy to make shapely dart action.
Features

Blade Sinker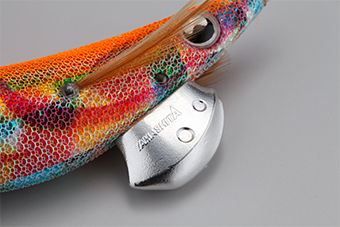 We changed the sinker part of the squid jigs from "LEAD" material to "TIN" material.
Aiming for sharpely dart action, we renewed material and shape.
The new shape "Blade Sinker" makes more sharply dart action when make rod actions.
Quick dart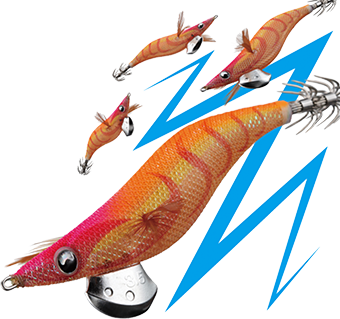 The dart action performance of "EGI-OH Q LIVE (old model)" has been further enhanced.
Compared with old model, new model makes 20 time side to side dart action in the same distance.
Low center of gravity design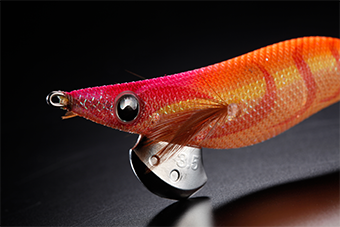 Stability performance improves when casting and action.
490GLOW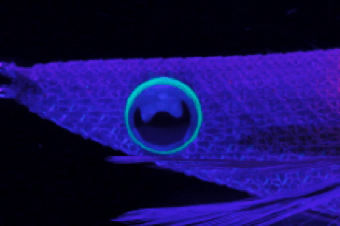 New "EGI-OH LIVE" has 490GLOW Eyes.

Glow of 490nm wavelength is most perceivable for Bigfin reef squid.
Specifications

| Size | Weight | Sinking speed |
| --- | --- | --- |
| 2.0 | 6.5g | Approx. 5.5 sec / m |
| 2.5 | 10g | Approx. 5.5 sec / m |
| 3.0 | 15g | Approx. 3.5 sec / m |
| 3.5 | 21g | Approx. 3 sec / m |
005 MMC


007 BLP


025 OOM


026 ORG


027 PKG


028 ORM


029 PKM

030 OLM

031 OR

032 PR

033 RG

034 PSR

035 PKL

036 TTA

037 TTI

038 KHF

039 OG

040 PG

041 HTT

042 LNW

エギに命を吹き込むウォームジャケット搭載
Spec
*Scroll across for more
Code
Item
Size / Color
Cloth type

Body color or

Under tape (foil) color

Size
Weight

Actual size

(Withou hook)

Sinking speed
613-230
EGI-OH LIVE 2.0
005 MMC
La-me
Keimura body
2.0
6.5g
60mm

Approx. 5.5 sec / m

613-247

EGI-OH LIVE 2.0

007 BLP

La-me

Keimura body

2.0

6.5g
60mm

Approx. 5.5 sec / m

613-254

EGI-OH LIVE 2.0

025 OOM

La-me

Keimura body

2.0

6.5g
60mm

Approx. 5.5 sec / m

613-261

EGI-OH LIVE 2.0

026 ORG
Basic
Gold tape
2.0
6.5g
60mm

Approx. 5.5 sec / m

613-278

EGI-OH LIVE 2.0

027 PKG

Basic

Gold tape

2.0
6.5g

60mm

Approx. 5.5 sec / m

613-285

EGI-OH LIVE 2.0

028 ORM

Basic

Rainbow tape
2.0
6.5g

60mm

Approx. 5.5 sec / m

613-292

EGI-OH LIVE 2.0

029 PKM

Basic

Rainbow tape

2.0
6.5g

60mm

Approx. 5.5 sec / m
613-308

EGI-OH LIVE 2.0

036 TTA
Natural

490GLOW body + Gold DESIGN HOLO

2.0
6.5g

60mm

Approx. 5.5 sec / m
613-315

EGI-OH LIVE 2.0

037 TTI

Natural

490GLOW body + Silver DESIGN HOLO

2

.0

6.5g

60mm

Approx. 5.5 sec / m
613-322

EGI-OH LIVE 2.0

042 LNW

La-me

Glow body
2

.0

6.5g

60mm

Approx. 5.5 sec / m
605-341

EGI-OH LIVE 2.5

005 MMC

La-me

Keimura body

2.5
10g
75mm
Approx. 5.5 sec / m
605-358

EGI-OH LIVE 2.5

007 BLP

La-me

Keimura body

2.5
10g
75mm
Approx. 5.5 sec / m
605-365

EGI-OH LIVE 2.5

025 OOM

La-me

Keimura body

2.5
10g
75mm
Approx. 5.5 sec / m
605-372

EGI-OH LIVE 2.5

026 ORG

Basic

Gold tape

2.5
10g
75mm
Approx. 5.5 sec / m
605-389

EGI-OH LIVE 2.5

027 PKG

Basic

Gold tape

2.5
10g
75mm
Approx. 5.5 sec / m
605-396

EGI-OH LIVE 2.5

028 ORM

La-me

Rainbow tape

2.5
10g
75mm
Approx. 5.5 sec / m
605-402

EGI-OH LIVE 2.5

029 PKM

La-me

Rainbow tape

2.5
10g
75mm
Approx. 5.5 sec / m
605-419

EGI-OH LIVE 2.5

030 OLM

La-me

Rainbow tape

2.5
10g
75mm
Approx. 5.5 sec / m
605-426

EGI-OH LIVE 2.5

031 OR

La-me

Red tape
2.5
10g
75mm
Approx. 5.5 sec / m
605-433

EGI-OH LIVE 2.5

032 PR

La-me

Red tape

2.5
10g
75mm
Approx. 5.5 sec / m
605-440

EGI-OH LIVE 2.5

033 RG

La-me

Red tape

2.5
10g
75mm
Approx. 5.5 sec / m
605-457

EGI-OH LIVE 2.5

034 PSR

Basic

Red tape

2.5
10g
75mm
Approx. 5.5 sec / m
605-464

EGI-OH LIVE 2.5

035 PKL

Basic

Pink tape
2.5
10g
75mm
Approx. 5.5 sec / m
605-471

EGI-OH LIVE 2.5

036 TTA

Natural

490GLOW body + Gold DESIGN HOLO

2.5
10g
75mm
Approx. 5.5 sec / m
605-488

EGI-OH LIVE 2.5

037 TTI

Natural

490GLOW body + Silver DESIGN HOLO

2.5
10g
75mm
Approx. 5.5 sec / m
605-495

EGI-OH LIVE 2.5

038 KHF

Natural

Holo tape

2.5
10g
75mm
Approx. 5.5 sec / m
605-501

EGI-OH LIVE 2.5

039 OG

Basic

Glow body

2.5
10g
75mm
Approx. 5.5 sec / m
605-518

EGI-OH LIVE 2.5

040 PG

Basic

Glow body

2.5
10g
75mm
Approx. 5.5 sec / m
605-525

EGI-OH LIVE 2.5

041 HTT

Basic

Glow body

2.5
10g
75mm
Approx. 5.5 sec / m
605-532

EGI-OH LIVE 2.5

042 LNW

La-me

Glow body

2.5
10g
75mm
Approx. 5.5 sec / m
605-549

EGI-OH LIVE 3.0

005 MMC

La-me

Keimura body

3

.0

15g
90mm
Approx. 3.5 sec / m
605-556

EGI-OH LIVE 3.0

007 BLP

La-me

Keimura body

3

.0

15g
90mm
Approx. 3.5 sec / m
605-563

EGI-OH LIVE 3.0

025 OOM

La-me

Keimura body

3

.0

15g
90mm
Approx. 3.5 sec / m
605-570

EGI-OH LIVE 3.0

026 ORG

Basic

Gold tape

3

.0

15g
90mm
Approx. 3.5 sec / m
605-587

EGI-OH LIVE 3.0

027 PKG

Basic

Gold tape

3

.0

15g
90mm
Approx. 3.5 sec / m
605-594

EGI-OH LIVE 3.0

028 ORM

La-me

Rainbow tape

3

.0

15g
90mm
Approx. 3.5 sec / m
605-600

EGI-OH LIVE 3.0

029 PKM

La-me

Rainbow tape

3

.0

15g
90mm
Approx. 3.5 sec / m
605-617

EGI-OH LIVE 3.0

030 OLM

La-me

Rainbow tape

3

.0

15g
90mm
Approx. 3.5 sec / m
605-624

EGI-OH LIVE 3.0

031 OR

La-me

Red tape

3

.0

15g
90mm
Approx. 3.5 sec / m
605-631

EGI-OH LIVE 3.0

032 PR

La-me

Red tape

3

.0

15g
90mm
Approx. 3.5 sec / m
605-648

EGI-OH LIVE 3.0

033 RG

La-me

Red tape

3

.0

15g
90mm
Approx. 3.5 sec / m
605-655

EGI-OH LIVE 3.0

034 PSR

Basic

Red tape

3

.0

15g
90mm
Approx. 3.5 sec / m
605-662

EGI-OH LIVE 3.0

035 PKL

Basic

Pink tape

3

.0

15g
90mm
Approx. 3.5 sec / m
605-679

EGI-OH LIVE 3.0

036 TTA

Natural

490GLOW body + Gold DESIGN HOLO

3

.0

15g
90mm
Approx. 3.5 sec / m
605-686

EGI-OH LIVE 3.0

037 TTI

Natural

490GLOW body + Silver DESIGN HOLO

3

.0

15g
90mm
Approx. 3.5 sec / m
605-693

EGI-OH LIVE 3.0

038 KHF

Natural

Holo tape

3

.0

15g
90mm
Approx. 3.5 sec / m
605-709

EGI-OH LIVE 3.0

039 OG

Basic

Glow body

3

.0

15g
90mm
Approx. 3.5 sec / m
605-716

EGI-OH LIVE 3.0

040 PG

Basic

Glow body

3

.0

15g
90mm
Approx. 3.5 sec / m
605-723

EGI-OH LIVE 3.0

041 HTT

Basic

Glow body

3

.0

15g
90mm
Approx. 3.5 sec / m
605-730

EGI-OH LIVE 3.0

042 LNW

La-me

Glow body

3

.0

15g
90mm
Approx. 3.5 sec / m
603-972

EGI-OH LIVE 3.5

005 MMC

La-me

Keimura body

3.5
21g
105mm
Approx. 3 sec / m
603-989

EGI-OH LIVE 3.5

007 BLP

La-me

Keimura body

3.5
21g
105mm
Approx. 3 sec / m
603-996

EGI-OH LIVE 3.5

025 OOM

La-me

Keimura body

3.5
21g
105mm
Approx. 3 sec / m
604-009

EGI-OH LIVE 3.5

026 ORG

Basic

Gold tape

3.5
21g
105mm
Approx. 3 sec / m
604-016

EGI-OH LIVE 3.5

027 PKG

Basic

Gold tape

3.5
21g
105mm
Approx. 3 sec / m
604-023

EGI-OH LIVE 3.5

028 ORM

La-me

Rainbow tape

3.5
21g
105mm
Approx. 3 sec / m
604-030

EGI-OH LIVE 3.5

029 PKM

La-me

Rainbow tape

3.5
21g
105mm
Approx. 3 sec / m
604-047

EGI-OH LIVE 3.5

030 OLM

La-me

Rainbow tape

3.5
21g
105mm
Approx. 3 sec / m
604-054

EGI-OH LIVE 3.5

031 OR

La-me

Red tape

3.5
21g
105mm
Approx. 3 sec / m
604-061

EGI-OH LIVE 3.5

032 PR

La-me

Red tape

3.5
21g
105mm
Approx. 3 sec / m
604-078

EGI-OH LIVE 3.5

033 RG

La-me

Red tape

3.5
21g
105mm
Approx. 3 sec / m
604-085

EGI-OH LIVE 3.5

034 PSR

Basic

Red tape

3.5
21g
105mm
Approx. 3 sec / m
604-092

EGI-OH LIVE 3.5

035 PKL

Basic

Pink tape

3.5
21g
105mm
Approx. 3 sec / m
604-108

EGI-OH LIVE 3.5

036 TTA

Natural

490GLOW body + Gold DESIGN HOLO

3.5
21g
105mm
Approx. 3 sec / m
604-115

EGI-OH LIVE 3.5

037 TTI

Natural

490GLOW body + Silver DESIGN HOLO

3.5
21g
105mm
Approx. 3 sec / m
604-122

EGI-OH LIVE 3.5

038 KHF

Natural

Holo tape
3.5
21g
105mm
Approx. 3 sec / m
604-139

EGI-OH LIVE 3.5

039 OG

Basic

Glow body

3.5
21g
105mm
Approx. 3 sec / m
604-146

EGI-OH LIVE 3.5

040 PG

Basic

Glow body

3.5
21g
105mm
Approx. 3 sec / m
604-153

EGI-OH LIVE 3.5

041 HTT

Basic

Glow body

3.5
21g
105mm
Approx. 3 sec / m
604-160

EGI-OH LIVE 3.5

042 LNW

La-me

Glow body

3.5
21g
105mm
Approx. 3 sec / m