eginno MOGUMOGU SEARCH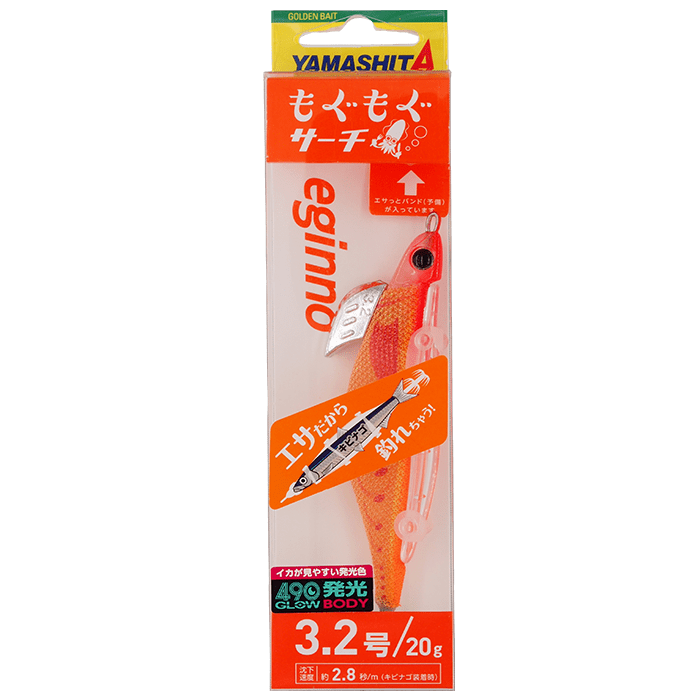 Squid bite the baitfish and hold EGI longer, so that you can catch squid more easily without common EGING technique.
Features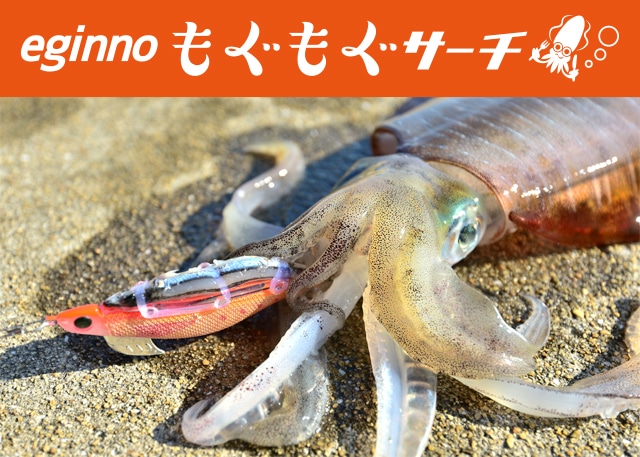 What is "MOGUMOGU" ??
The second edition of "eginno" series. It's the "eginno MOGUMOGU SEARCH".
The normal squid fishing depends on the angler's skill. But eginno MOGUMOGU SEARCH is a unique squid jig that we can attach real bait.
The attached real bait helps the squid hold on to the jig longer and tightly. So everybody can catch squid easily.
Function and feature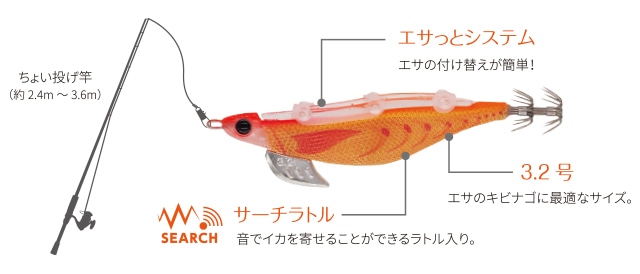 【EGI + baitfish】
"Due to attach real bait, squid bite the baitfish and hold EGI longer", you can catch squid easily !!
How to attach the baitfish
Attach a bait fish on the back plate of MOGUMOGU SEARCH, and fix by rubber band "ESATTO band".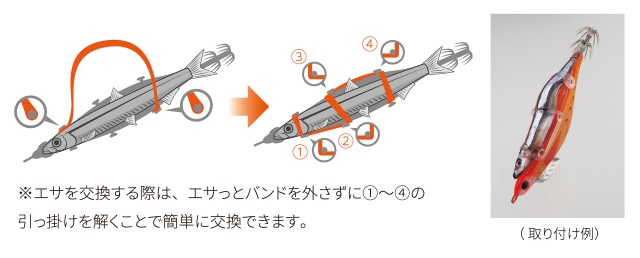 It is simple and easy !!
①

Cast and let it sink to bottoms. (Sinking speed : Approx. 2.8 sec / m)

②

Jerk widely onece and wait for about 10 sec. (Repeat this action)

③

If you feel the weight of something, hooking with jerking action.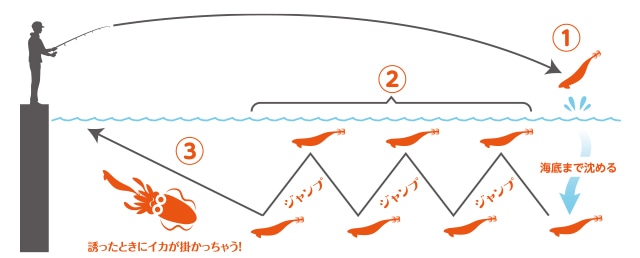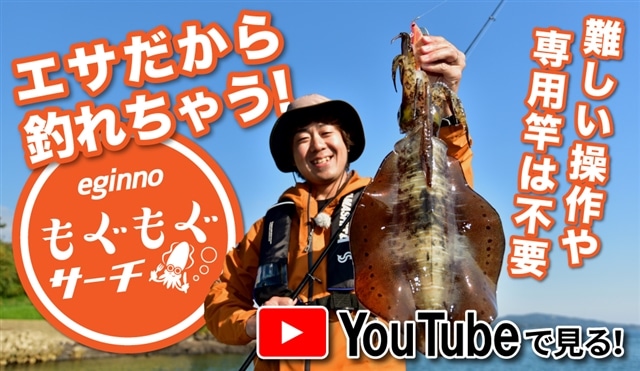 Where we can catch the squid ??
Basically, squid is moving around all day to eat baitfish, they eat a lot. So at first, we need to find baitfish, such as shrimp, sardine, mackerel and other small fish.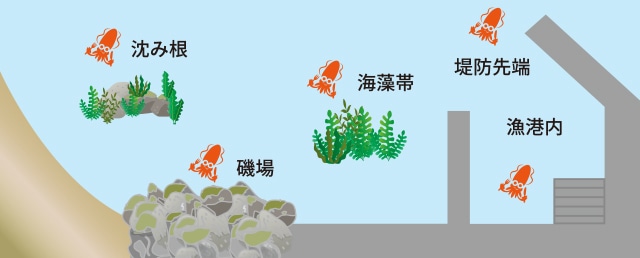 There are so many species of squid
We can catch variety of squid each seasons, area, all over the world !!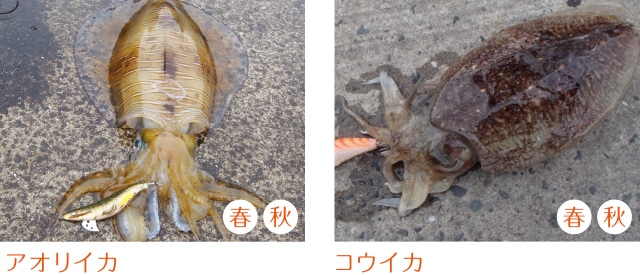 In Japan, "Bigfin reef squid" and "Cuttlefish" are common, main target.

Calamari are also main target, we often catch them at night time.
Specifications
| | |
| --- | --- |
| Size | 3.2 |
| Weight | 20g |
| Sinking Speed | Approx. 2.8 sec / m *Withon bait fish |
001 490G

002 GLM

003 KMP

004 KMB

005 KMK

007 HYG

008 NVG

009 LSG
Spec
*Scroll across for more
Code
Item
Size / Color
Cloth type

Body color or

Under tape (foil) color

Size
Weight

Sinking speed

(Withon bait fish)

611-892
eginno MOGUMOGU SEARCH 3.2
001 490G
La-me
490GLOW body
3.2
20g
Approx. 2.8 sec / m
611-908
eginno MOGUMOGU SEARCH 3.2
002 GLM
La-me
490GLOW body
3.2
20g
Approx. 2.8 sec / m
611-915
eginno MOGUMOGU SEARCH 3.2
003 KMP
La-me
Keimura body
3.2
20g
Approx. 2.8 sec / m
611-922
eginno MOGUMOGU SEARCH 3.2
004 KMB
La-me
Keimura body
3.2
20g
Approx. 2.8 sec / m
611-939
eginno MOGUMOGU SEARCH 3.2
005 KMK
La-me
Keimura body + Silver tape
3.2
20g
Approx. 2.8 sec / m
623-062
eginno MOGUMOGU SEARCH 3.2
007 HYG
La-me
GLOW body
3.2
20g
Approx. 2.8 sec / m
623-079
eginno MOGUMOGU SEARCH 3.2
008 NVG
La-me
GLOW body
3.2
20g
Approx. 2.8 sec / m
623-086
eginno MOGUMOGU SEARCH 3.2
009 LSG
La-me
GLOW body
3.2
20g
Approx. 2.8 sec / m