EGI-OH K SHALLOW / SUPER SHALLOW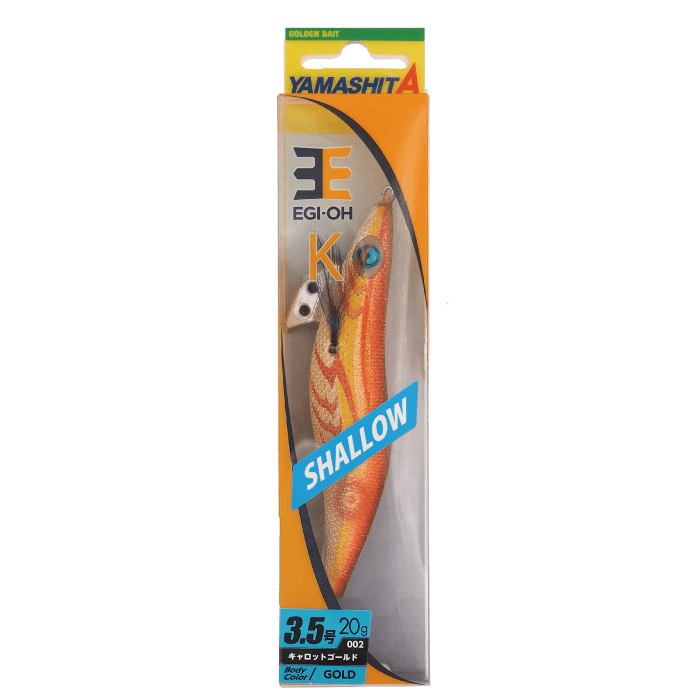 EGI-OH K slow sinking model and extreme slow sinking model
Features
Specialized "Stable slow sinking"
For shallow area, we have equipped a lot of technology.
・Bright back cloth color : it can help the anglers to see EGI easily.
・HYDRO FIN specialize in a having a stable sinking in any tough condition. It reflect U.V.rays.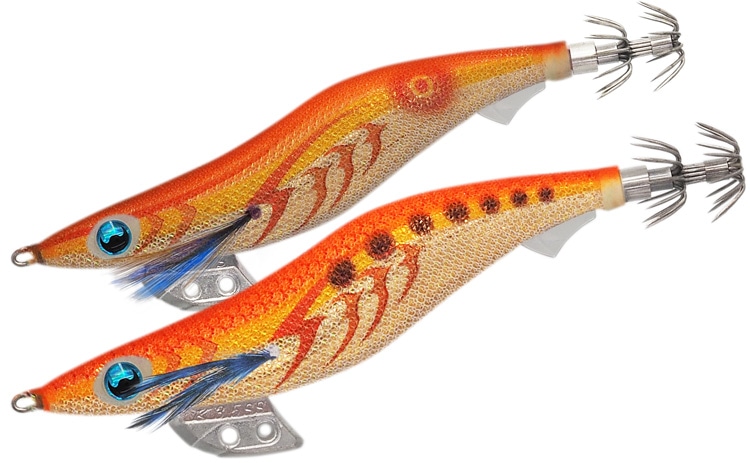 ・Shallow type and Super Shallow type have different cloth pattern.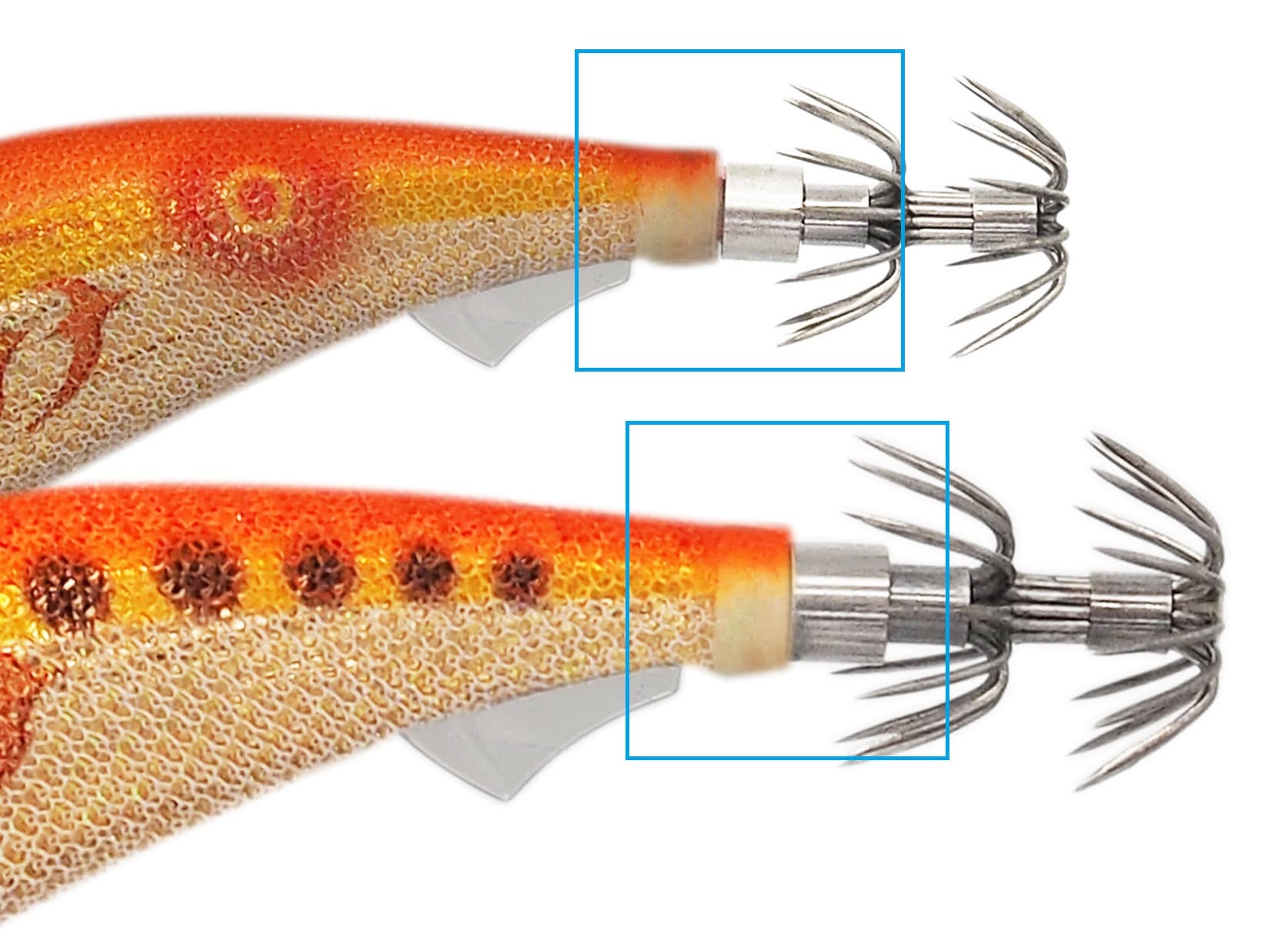 ・Active balancer : Balancer sinker has attached on root part of crown hook, it makes EGI great balance with keeping good action.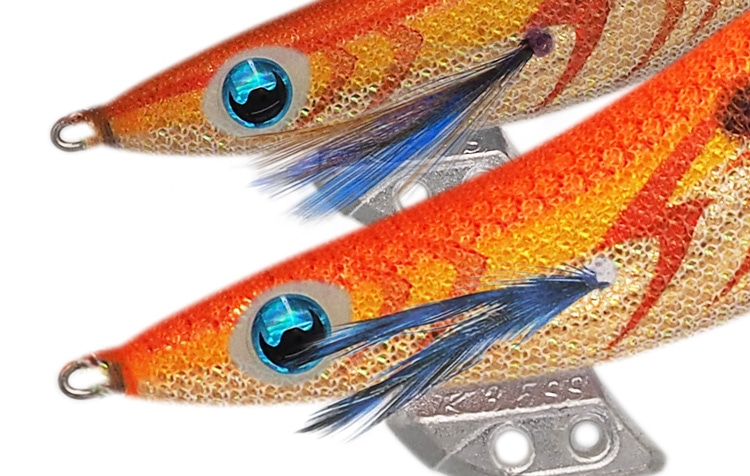 ・Shallow type has Blue eyes and Blue feather.
*Each size images of sinking rate
Basic type:Approx.3sec/m Shallow type:Approx.6sec/m Super Shallow type:Approx.8sec/m
Specifications
Size
3.0S
3.5S
3.0SS
3.5SS
Weight
15g
20g
14.5g
19.5g

Sinking

speed

Approx.

6.0 sec / m

Approx.

6.0 sec / m

Approx.

8.0 sec / m

Approx.

8.0 sec / m


エギに命を吹き込むウォームジャケット搭載
Spec
*Scroll across for more
Code
Item
Size / Color
Cloth type

Body color or

Under tape (foil) color

Size
Weight

Actual size

(Without hook)

Sinking speed
598-469
EGI-OH K 3S
001 AJK
Natural
Gold tape
3.0
15g
90mm
Approx. 6 sec / m
598-476
EGI-OH K 3S
002 CRG
La-me
Gold tape
3.0
15g
90mm
Approx. 6 sec / m
598-483
EGI-OH K 3S
003 RSG
La-me
Gold tape
3.0
15g
90mm
Approx. 6 sec / m
598-490
EGI-OH K 3S
004 CTO
Basic
Red tape
3.0
15g
90mm
Approx. 6 sec / m
598-506
EGI-OH K 3S
005 MMC
La-me
Keimura body
3.0
15g
90mm
Approx. 6 sec / m
598-513
EGI-OH K 3S
006 GKGR
Basic
Red tape
3.0
15g
90mm
Approx. 6 sec / m
598-520
EGI-OH K 3S
007 BLP
La-me
Keimura body
3.0
15g
90mm
Approx. 6 sec / m
598-537
EGI-OH K 3S
008 PPS
La-me
Purple tape
3.0
15g
90mm
Approx. 6 sec / m
598-186
EGI-OH K 3S
009 MPS
La-me
Keimura body
3.0
15g
90mm
Approx. 6 sec / m
598-193
EGI-OH K 3S
010 LPG
La-me
Rainbow tape
3.0
15g
90mm
Approx. 6 sec / m
594-683
EGI-OH K 3.5S
001 AJK
Natural
Gold tape
3.5
20g
105mm
Approx. 6 sec / m
594-676
EGI-OH K 3.5S
002 CRG
La-me
Gold tape
3.5
20g
105mm
Approx. 6 sec / m
594-751
EGI-OH K 3.5S
003 RSG
La-me
Gold tape
3.5
20g
105mm
Approx. 6 sec / m
594-669
EGI-OH K 3.5S
004 CTO
Basic
Red tape
3.5
20g
105mm
Approx. 6 sec / m
594-720
EGI-OH K 3.5S
005 MMC
La-me
Keimura body
3.5
20g
105mm
Approx. 6 sec / m
594-690
EGI-OH K 3.5S
006 GKGR
Basic
Red tape
3.5
20g
105mm
Approx. 6 sec / m
594-713
EGI-OH K 3.5S
007 BLP
La-me
Keimura body
3.5
20g
105mm
Approx. 6 sec / m
594-706
EGI-OH K 3.5S
008 PPS
La-me
Purple tape
3.5
20g
105mm
Approx. 6 sec / m
594-737
EGI-OH K 3.5S
009 MPS
La-me
Keimura body
3.5
20g
105mm
Approx. 6 sec / m
594-744
EGI-OH K 3.5S
010 LPG
La-me
Rainbow tape
3.5
20g
105mm
Approx. 6 sec / m
606-959
EGI-OH K 3SS
001 AJK
Natural
Gold tape
3.0
14.5g
90mm
Approx. 8 sec / m
606-966
EGI-OH K 3SS
002 CRG
La-me
Gold tape
3.0
14.5g
90mm
Approx. 8 sec / m
606-973
EGI-OH K 3SS
003 RSG
La-me
Gold tape
3.0
14.5g
90mm
Approx. 8 sec / m
606-980
EGI-OH K 3SS
004 CTO
Basic
Red tape
3.0
14.5g
90mm
Approx. 8 sec / m
606-997
EGI-OH K 3SS
005 MMC
La-me
Keimura body
3.0
14.5g
90mm
Approx. 8 sec / m
607-000
EGI-OH K 3SS
006 GKGR
Basic
Red tape
3.0
14.5g
90mm
Approx. 8 sec / m
607-017
EGI-OH K 3SS
007 BLP
La-me
Keimura body
3.0
14.5g
90mm
Approx. 8 sec / m
607-024
EGI-OH K 3SS
008 PPS
La-me
Purple tape
3.0
14.5g
90mm
Approx. 8 sec / m
607-031
EGI-OH K 3SS
009 MPS
La-me
Keimura body
3.0
14.5g
90mm
Approx. 8 sec / m
607-048
EGI-OH K 3SS
010 LPG
La-me
Rainbow tape
3.0
14.5g
90mm
Approx. 8 sec / m
594-782
EGI-OH K 3.5SS
001 AJK
Natural
Gold tape
3.5
19.5g
105mm
Approx. 8 sec / m
594-775
EGI-OH K 3.5SS
002 CRG
La-me
Gold tape
3.5
19.5g
105mm
Approx. 8 sec / m
594-850
EGI-OH K 3.5SS
003 RSG
La-me
Gold tape
3.5
19.5g
105mm
Approx. 8 sec / m
594-768
EGI-OH K 3.5SS
004 CTO
Basic
Red tape
3.5
19.5g
105mm
Approx. 8 sec / m
594-829
EGI-OH K 3.5SS
005 MMC
La-me
Keimura body
3.5
19.5g
105mm
Approx. 8 sec / m
594-799
EGI-OH K 3.5SS
006 GKGR
Basic
Red tape
3.5
19.5g
105mm
Approx. 8 sec / m
594-812
EGI-OH K 3.5SS
007 BLP
La-me
Keimura body
3.5
19.5g
105mm
Approx. 8 sec / m
594-805
EGI-OH K 3.5SS
008 PPS
La-me
Purple tape
3.5
19.5g
105mm
Approx. 8 sec / m
594-836
EGI-OH K 3.5SS
009 MPS
La-me
Keimura body
3.5
19.5g
105mm
Approx. 8 sec / m
594-843
EGI-OH K 3.5SS
010 LPG
La-me
Rainbow tape
3.5
19.5g
105mm
Approx. 8 sec / m