Point
MS-1 55SR dives to 2m. It has a natural slow action on a straight retrieve and emits a strong flash.
There are many technique options for the Maria Shad: straight retrieve, stop & go or twitching retrieve. The action can be tailored
to the situation. The lure will suspend underwater keeping it in the strike zone which is ideal when there is low activity.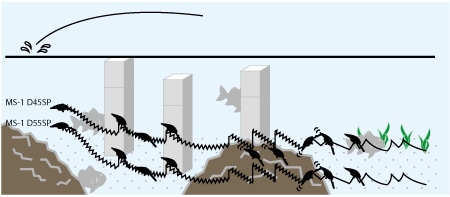 Color
color
AYG
color
BBH
color
BBOM
color
BGM
color
BSG
color
GBOH
color
PCC
color
PIOC
color
WSG
color
AYWP
color
GLP
color
SC
color
CTM
color
TGM
color
OLG
Spec
Size
55mm
Weight
5.7g
Depth
2.0m
Type
Salt water / Slow Floating
Fresh Water / Suspending
Ring size
#2
Hook size
ST36BC #18
Action
Fine Wobbling