Point
MC-1 45DR can dive to 2m deep.
This model also has a strong high flashing appeal because of its box-shaped.
Suitable situations to use this lure include drop-offs close to the shore or rocks and weed beds.
The 45mm size can be used as a search bait to locate fish. It is ideal to contact and target fish.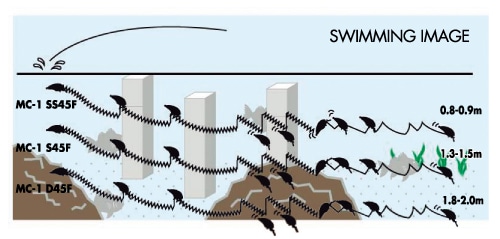 Color
color
AYG
color
AYWP
color
BBH
color
BBOM
color
BGM
color
BSG
color
SC
color
GBOH
color
GLP
color
CTM
color
OLG
color
PCC
color
PIOC
color
TGM
color
WSG
Spec
| | |
| --- | --- |
| Size | 45mm |
| Weight | 6.2g |
| Depth | 2m |
| Type | Floating |
| Ring size | #2 |
| Hook size | ST36BC #8 |
| Action | Wide Wobbling |