EGI-OH K Kuroshio SP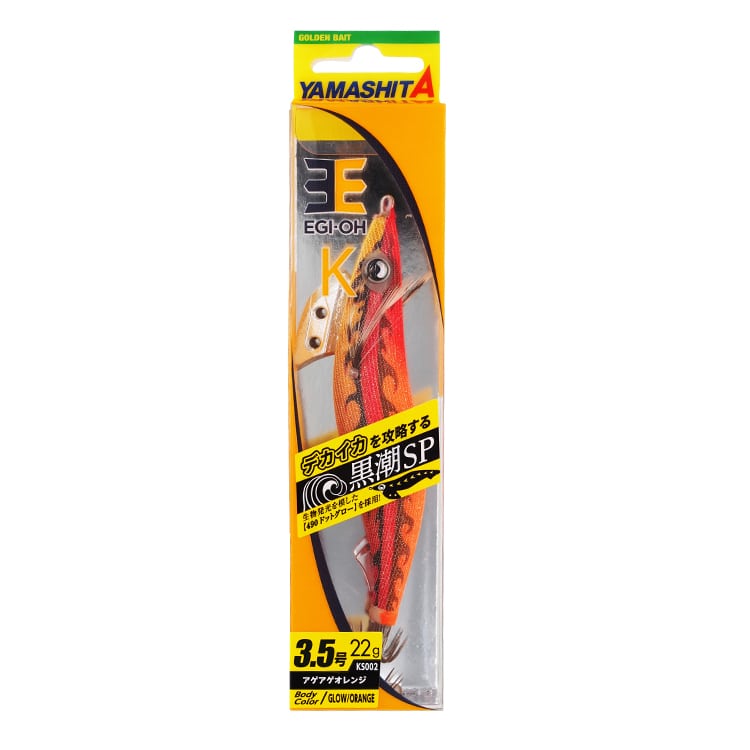 Special spec to catch big one.
"Kuroshio" means Japanese unique strong current in south area.
Features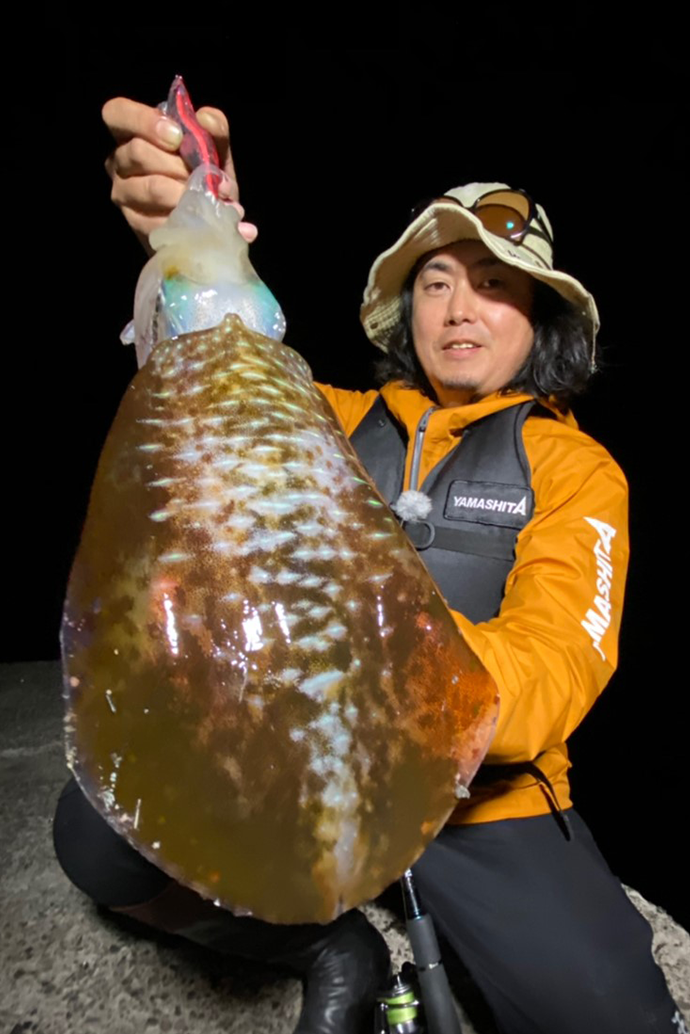 Catch the big one in strong current !!

In Japan, spring season, "Kuroshio current" is one of the key point to catch the big one.
The Kuroshio current has strong and a little bit warm water temperature.
This special model is for catching big one under the high tide, full moon, during night time.
Dot pattern 490GLOW
It Imitates of Bioluminescence. (Bioluminescence of krill)

Wikimedhia Commons:Use this file 生物発光
posted by (C)Uwe Kils
Kira-tough coat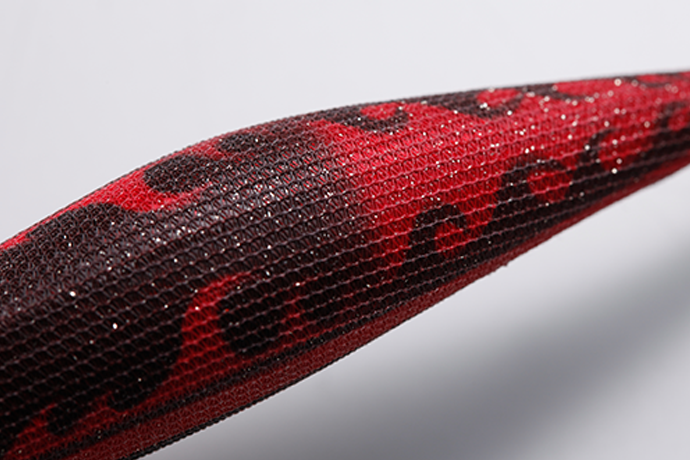 Strong coating with glitter
You can distinguish easily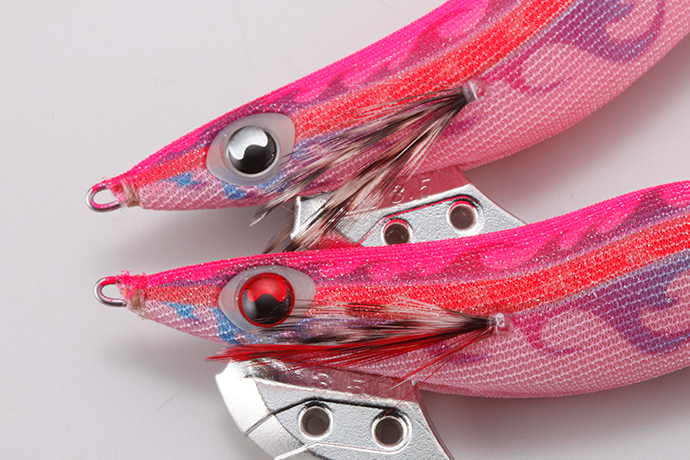 In YAMASHITA squid jig, we use each color for each type

【Eyes】
Basic:Black
Deep:Red

【Feather】
Basic:Normal (Black & Brown)
Deep:Red
HYDRO FIN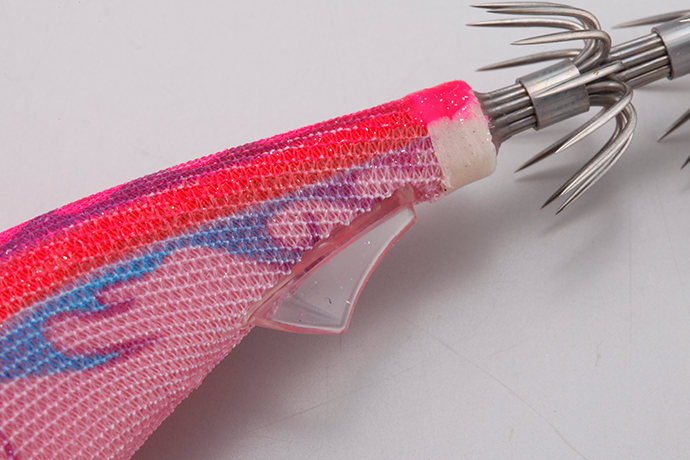 Attached "HYDRO FIN" at the rear of the jig for improved stability when sinking.
Specifications
| | | | |
| --- | --- | --- | --- |
| Size | 3.5 | 3.5D | 4.0 |
| Weight | 22g | 25g | 26g |
| Sinking speed | Approx. 3 sec / m | Approx. 2 sec / m | Approx. 3 sec / m |

Spec
*Scroll across for more
Code
Item
Size / Color
Cloth type

Body color or

Under tape (foil) color

Size
Weight

Actual size

(Without hook)

Sinking speed
609-646
EGI-OH K 3.5
KS001 MSF
Basic
Glow body
3.5
22g
105mm
Approx. 3 sec / m
609-653
EGI-OH K 3.5
KS002 AAO
Basic
Glow body + Orange tape
3.5
22g
105mm
Approx. 3 sec / m
609-660
EGI-OH K 3.5
KS003 JKZ
Basic
Red tape
3.5
22g
105mm
Approx. 3 sec / m
609-677
EGI-OH K 3.5
KS004 ONG
Basic
Gold tape
3.5
22g
105mm
Approx. 3 sec / m
609-684
EGI-OH K 3.5
KS005 NTP
La-me
Pearl body
3.5
22g
105mm
Approx. 3 sec / m
609-691
EGI-OH K 3.5
KS006 BKC
La-me
Keimura body
3.5
22g
105mm
Approx. 3 sec / m
609-707
EGI-OH K 3.5D
KS001 MSF
Basic
Glow body
3.5
25g
105mm
Approx. 2 sec / m
609-714
EGI-OH K 3.5D
KS002 AAO
Basic
Glow body + Orange tape
3.5
25g
105mm
Approx. 2 sec / m
609-721
EGI-OH K 3.5D
KS003 JKZ
Basic
Red tape
3.5
25g
105mm
Approx. 2 sec / m
609-738
EGI-OH K 3.5D
KS004 ONG
Basic
Gold tape
3.5
25g
105mm
Approx. 2 sec / m
609-745
EGI-OH K 3.5D
KS005 NTP
La-me
Pearl body
3.5
25g
105mm
Approx. 2 sec / m
609-752
EGI-OH K 3.5D
KS006 BKC
La-me
Keimura body
3.5
25g
105mm
Approx. 2 sec / m
609-769
EGI-OH K 4.0
KS001 MSF
Basic
Glow body
4.0
26g
120mm
Approx. 3 sec / m
609-776
EGI-OH K 4.0
KS002 AAO
Basic
Glow body + Orange tape
4.0
26g
120mm
Approx. 3 sec / m
609-783
EGI-OH K 4.0
KS003 JKZ
Basic
Red tape
4.0
26g
120mm
Approx. 3 sec / m
609-790
EGI-OH K 4.0
KS004 ONG
Basic
Gold tape
4.0
26g
120mm
Approx. 3 sec / m
609-806
EGI-OH K 4.0
KS005 NTP
La-me
Pearl body
4.0
26g
120mm
Approx. 3 sec / m
609-813
EGI-OH K 4.0
KS006 BKC
La-me
Keimura body
4.0
26g
120mm
Approx. 3 sec / m