Point
The Shallow Crank is designed to be able to avoid snags and swim true thanks to the rounded edge lip design.
Its obstacle avoidance keeps the lure in the zone while maintaining a natural presentation.
The floating body dives up to 1.5m and has a strong wobbling and rolling action.
Its strong wave motion attracts fish from a wide range.
Fitted with a low sounding rattle in order to not to spook your target.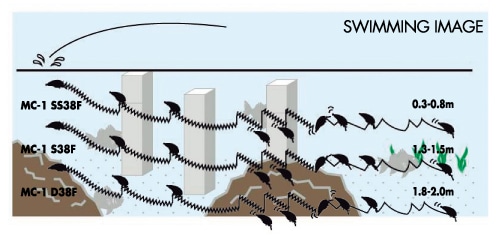 color
AYG
color
BBH
color
BBOM
color
BGM
color
BLH
color
BSG
color
CBOM
color
GBOH
color
HTM
color
PCC
color
PIOC
color
RBC
color
RGH
color
SSG
color
WSG
Spec
| | |
| --- | --- |
| Size | 38mm |
| Weight | 4.2g |
| Depth | 1.5m |
| Type | Floating |
| Ring size | #1 |
| Hook size | ST36BC #12 |
| Action | Wide Wobbling |